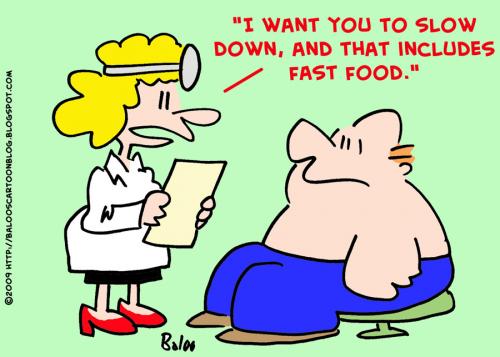 Fast food is part of our culture
and is not going away anytime soon. If you are unable to steer clear of it, do your best to make a healthy choice! 
BE PREPARED! Remember your overall goals!
Fast food and dieting don't exactly go hand in hand but by being prepared, not being afraid to special order, and planning a little bit you can make eating at a fast food restaurant healthier.
Tips when going out to eat!



Limit the extras – no high calorie sauces such as mayo or BBQ sauce.



Stay away from liquid calories. Water please!


Get the grilled option. Stay away from fried foods!


Go skinless. Take off any skin that may be on your turkey or chicken


 Convenient store


Water


 Fresh fruit        


 String cheese


 Yogurt


 Beef jerky


Protein bar or Granola bar (Cliff bar, Luna bar, Nature Valley, protein bar of choice)


Nuts (single serving)      


Wendy's


Garden Sensation Salads- limit dressing, chose low fat, low calories or top with chili for a taco salad and a little extra protein!


Grilled chicken sandwich


Chili with potato – low fat sour cream if any


Limit extra cheese and mayo on hamburgers    


Taco Bell


Fresco style tacos and burritos


Chicken soft tacos


 Chicken burrito


  Bean burrito


  Taco salad, but don't eat the shell!


* beware of sour cream, cheese, and guacamole. These are all high calories extras. Use sparingly. Don't be afraid to special order.
Mc Donald's


Chicken McGrill, no mayo!


Side salad- Light on the dressing. Choose low fat vinaigrette.


Grilled chicken salad- Light on the dressing. Choose low fat vinaigrette


Egg McMuffin


Fruit and yogurt parfait (very high in carbs, beware if diabetic)         


Subway


Choose lean meats (chicken, turkey, ham, roast beef)


Pile on the veggies


Light on the sauces- choose low calorie sauces such as mustard, light mayo, or vinegar.


Ask for no cheese- you usually cant even taste it on the sandwich and this will save you at least 100 calories.


Choose whole grain breads


  Pizza


Ask for thin crust


 Limit appetizers such as breadsticks or wings


Load on the veggies


Choose lean meats like Canadian bacon or chicken


Have a side salad instead of going back for a second helping of pizza.


NOTICE: All chain restaurants have their menus and nutrition facts online! Review them before going out to eat so you know exactly what you are getting!